Following The Path More Taken
What a magical morning in Tarangire, Tanzania, the sun's rays casting down from between the gray clouds, the grasslands golden glow, a herd of zebra grazing in the fields, then without a warning the herd congregates and takes off down the road.
(PX3 Prix de la Photography Paris 2011 – received Honorable Mention and selected by Nature's Best Photography Picture of the Week and displayed won the website the week of 5/16/2012)
Sweet Necture
We arrived at our very first national park while on safari in Tanzania and this is one of the beautiful birds I see as our guide is getting our passes. What a great way to start our lifetime adventure. Tarangire, Tanzania
Tusks
No wonder elephant tusks have been so sought after for their ivory, they are a thing of beauty...thank goodness there are organizations and governments in coalition to save these magnificent beauties.
(Selected National Geographic 2010 Contest - People, Place, Nature to be displayed on the National Geographic website)
Kingfisher
The beautiful colors of the Kingfisher are especially striking against the muted tones and shape of the acacia's spiked branches. Tanzania
(CIC Photo Prizes 2011 Birds in their Natural Habitat finalist and was displayed in Saint Petersburg, Russia in 2011)
Brothers Sttalking
These Cheetah brothers were stalking a group of Impalas…they came quite close to the vehicles as they were paying no attention to the tourist. Tanzania
Lazy Lion
We were beginning to think that lions in trees were a "safari legend:" that was until we experiences numerous siting's in the Serengeti. I love that the structural integrity that the tree adds to this image.
Trio
This group of three giraffes forms a perfect triad. Ambosoli, Kenya
Feediing Time
Orphaned baby elephants in Kenya are fortunate for the existence of Dr. Daphene Sheldrick's breakthrough techniques on how to successfully rear and care for new-born and injured baby elephants that are less than two years old as still nursing. As well as The David Sheldrick Wildlife Trust, a non-profit organization, dedicated to raising funds and training dedicated Elephant Keepers to nurture and care for these babies through the years it takes to finally re-establish them "living free amongst their wild peers in Tsavo National Park", Kenya.
Daily Trek
These Amboseli elephants journey dozens of miles each day to between their watering holes in the park and their nightly resting places further south towards Mt. Kilimanjaro. Amboseli, Kenya
(Chosen by World Wildlife Federation (WWF) in 2011 to be used in future publications)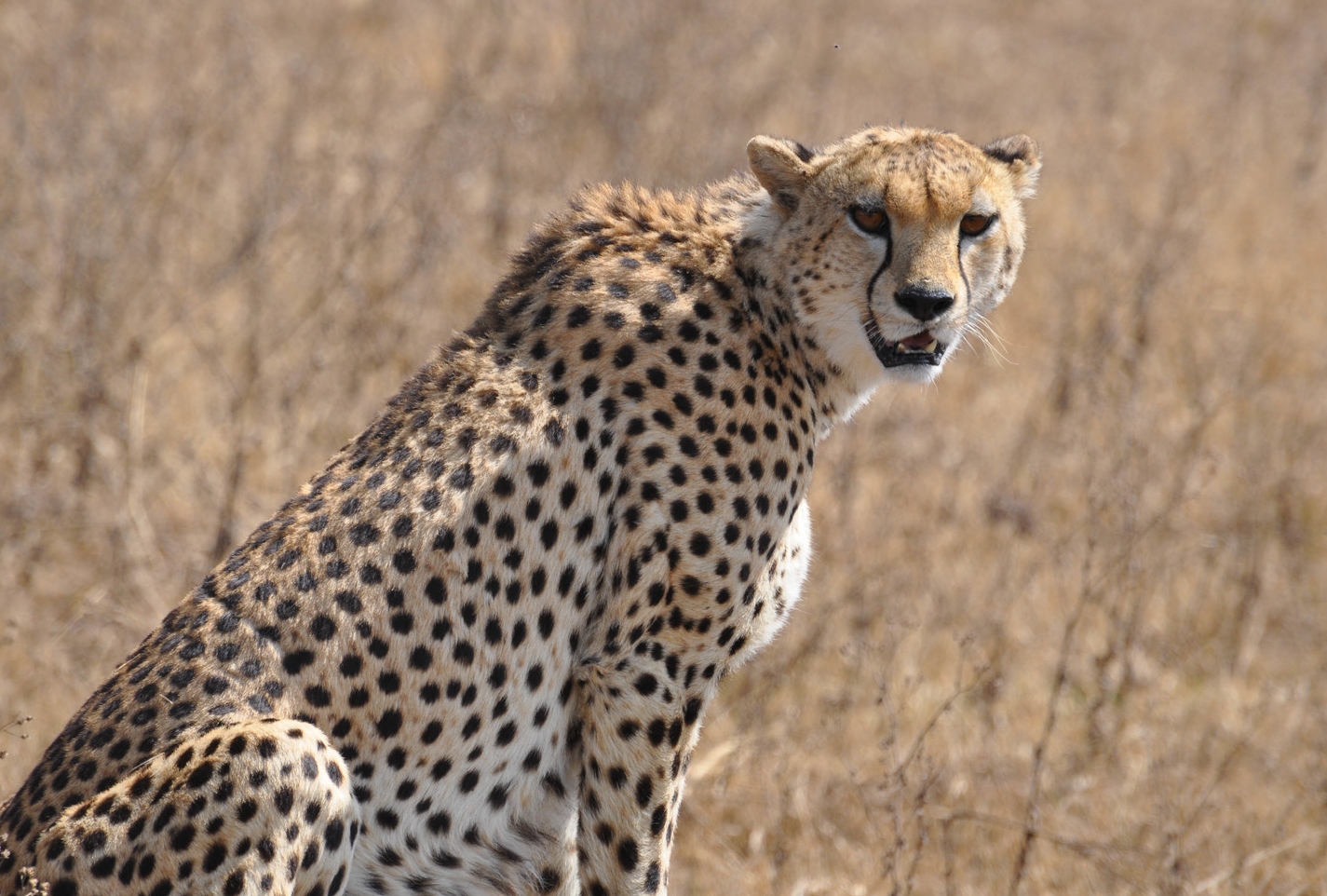 Stalking
This Cheetah was stalking a group of Impalas with his brother…they came quite close to the vehicles as they were paying no attention to the tourist. Tanzania
With a Flick of His Tail
Wildlife